Mahon Sweeney, have been awarded the prestigious Q6000 Quality Assurance Mark for Solicitors. Very few firms of Solicitors in Connaught have been awarded the Gold Standard. The Q6000 was awarded for `exceptional levels of client management`.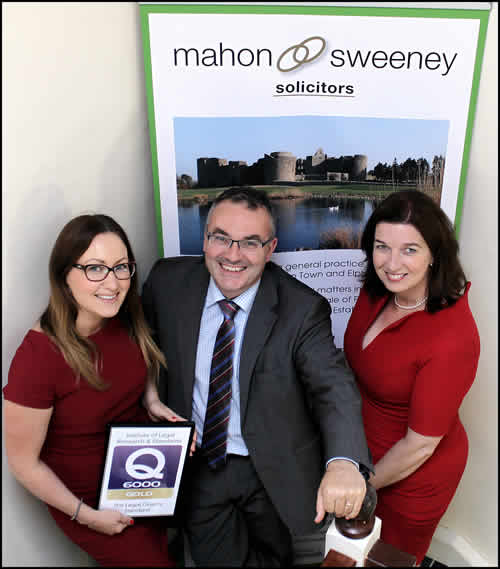 Mahon Sweeney is a medium sized firm of Solicitors with four Solicitors and eight support staff. The firm was formed in 2008 by Sean Mahon and Marie Conroy and is an amalgamation of Seán A. Mahon & Co., Lyster & Co. and the long established firm of Solicitors, Farrell McDonnell Sweeney & Co which traces its origins back to 1867. Over the years the firm has adapted to meet the changing needs of their clients and the challenging times of the recession.
While the firm invested heavily in Case Management and IT systems in recent years it prides itself in the personal professional service it provides to its clients.
Seán Mahon, Managing Partner, says "We are delighted to have achieved the Q6000 award. It is an important independent verification of our approach to client care and practice management and an affirmation of the hard work of all our staff in achieving this award. It is vital that we can assure our clients that we do not just observe but exceed the best practice standards."
The award is one aspect of the firm's development and is recognition of its attempts to ensure that its Solicitors and staff have the skill, expertise and experience to provide the highest standard of care to their clients.
The Q6000 is an advanced practice, risk and quality management standard awarded to Solicitors who have demonstrated exceptional levels of client care and practice management. The award follows a rigorous audit by the Institute of Legal Research and Standards. It provides independent verification of standards of client care, file management, practice management, regulatory compliance, risk management, human resource, information technology and financial management. The Q6000 is considered the gold standard for Solicitors and Mahon Sweeney Solicitors achieved an exceptional 91%.